Our Associates
GULF STEEL INDUSTRIES
Gulf Steel was established in 1992 as a wholly owned subsidiary of Al Nasser Industrial Enterprises L.L.C (ANIE).
ANIE is a wholy owned subsidiary of Al Nasser Holdings which is incorporated in Abu Dhabi in 1997 and is a leading private sector conglomerate in UAE with interest in diverse sectors of economy through company such as Al Nasser Properties, Al Nasser Investments etc.
The production facility at Gulf Steel is located at Musaffah, Abu Dhabi to manufacture Reinforcement Steel Bars (Rebars) /Cold-Ribbed Bars in Coils and Cut-to-Length sizes, Welded Mesh and Cut & Bend Products. The production facility comprises of two rolling mills with TMT process, automatic cooling bed and material handling equipment for the producing steel Rebars. The rolling mills are also capable of producing plain bars and square bars. In addition there are two cold ribbed lines, two advanced straightening and cutting lines, an automatic weld mesh plant and a Cut & Bend facility.
For more information : Visit Website
EMIRATES STEEL COMPANY LLC
ESC LLC was established in 1995 in Abu Dhabi to produce steel billets. It was the first of its kind in the UAE.In 2004, the company expanded its capacity by setting up a 2nd unit and recently ESC commissioned a new 20 Ton capacity Induction Furnace to increase its Billet manufacturing to 100,000 TPA.
The Billets are of 6 mtr length with cross section of 100 x 100 mm and 130 x 130 mm conforming to 3SPPS.
The Company is ISO 9001:2015 certified.
For more information : Visit Website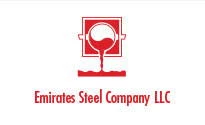 DJIBOUTI STEEL
Djibouti Steel Factory sarl, is set up as a 100 % subsidiary of ANIE.
It is having a manufacturing facility of 120,000 Metric Tons (MT) of Reinforcement Steel Bars (Rebars) per annum.
With a state of art production facility and a fully equipped physical and chemical testing lab Djibouti Steel is committed to producing high quality Rebars, Hot Rolled Plain Steel bars and Square bars
For more information : Visit Website